It's finally on Blu-ray, Brie Larson's Captain Marvel; and today we'll be reviewing not only the film, but we will also be reviewing the other features of the Blu-Ray and more importantly reviewing Marvel's first Female-led film.
---
Film:
The film is one of the most culturally relevant and unfortunately, it has also become the most one of the most divisive films out there today but in this fan's opinion, the movie was really good; had solid action scenes, the humor was good for a change since there has been a lot of grim films in the Box office as of late. The Skrulls were different from the ones from the comics and that isn't bad, sometimes everything cannot be the same as the book. There were moments that were either predictable or having humor that felt a tad forced at times. One of the oddest things about this film was the way, Nick Fury lost his eye. Ever since the introduction of Fury in the films, you thought he lost his eye in battle but when you realize how he lost his eye now it seems like a facepalm moment.
Features: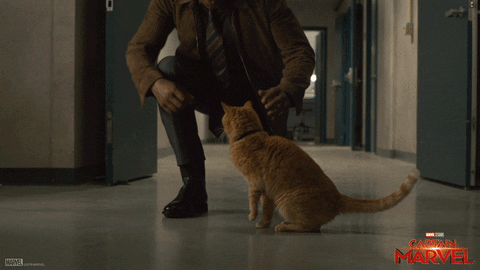 Audio Commentary: One of the best things about special features has to be the commentary, it always is a treat to listen to creators (Directors, producers, whoever) talk about the process in making a film such as Captain Marvel or any film in general. This was one of the best informative commentaries I've listened to. If you wanted to learn about Captain Marvel, this is your Commentary.
Deleted Scenes: Aside from some Character moments with Jude Law, there is not much to say about these scenes; it is clear to see, however, why they were left on the cutting room floor.
Featurettes: A fun behind the scenes collection especially cat pun-themed headline for the featurette (You gotta be Kitten me!)
Final Grade: